Die Bloue Wis
2018
Solo Exhibition
Nuweland Gallery, NL
An Affair Below (Fragment I, II)
2018
Relief prints on Zerkall Intaglio 250 gsm
154 x 140 cm (each)
Multiple of 2
Jardin Majorelle I
2018
Brass and Relief prints on Zerkall Intaglio 250 gsm
154 x 140 cm
Vervalle Pienk I
2018
Copper and Relief prints on Zerkall Intaglio 250 gsm
154 x 140 cm
Multiple of 2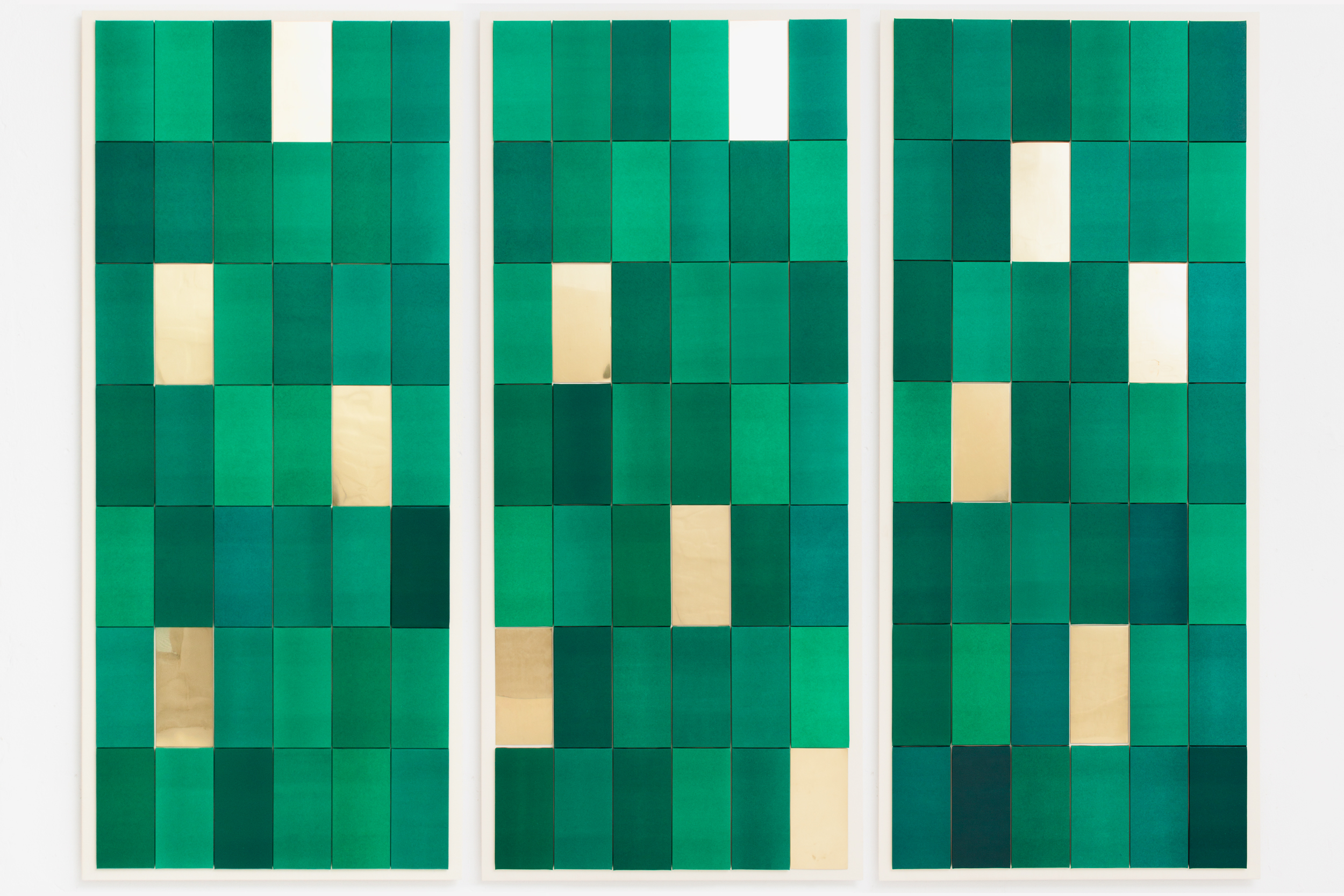 Seasside Garden I,II,III
2018
Brass Relief prints on Zerkall Intaglio 250 gsm
175 x 229.5 cm cm (set of three panels)
Collapsing Sunset / The Abandonment of Romance XXVI
2018
Relief prints and collage on Zerkall Intaglio 250gsm
63.5 x 43.5 cm
Collapsing Sunset / The Abandonment of Romance XXVII
2018
Relief prints and collage on Zerkall Intaglio 250gsm
63.5 x 43.5 cm
Collapsing Sunset / The Abandonment of Romance XXVIII
2018
Relief prints and collage on Zerkall Intaglio 250gsm
63.5 x 43.5 cm
Robben Island 2018 (series):
Putt-Putt Course and Play Park,
Guest House
Digital Print on Hahnemühle Photo Rag 308gsm
41 x 61 cm
Edition 6 and 1 AP
Robben Island 2018 (series):
Swimming Pool I,
Swimming Pool II
Digital Print on Hahnemühle Photo Rag 308gsm
41 x 61 cm
Edition 6 and 1 AP
Robben Island 2018 (series):
Guest House Look-Out,
Changing Room
Digital Print on Hahnemühle Photo Rag 308gsm
41 x 61 cm
Edition 6 and 1 AP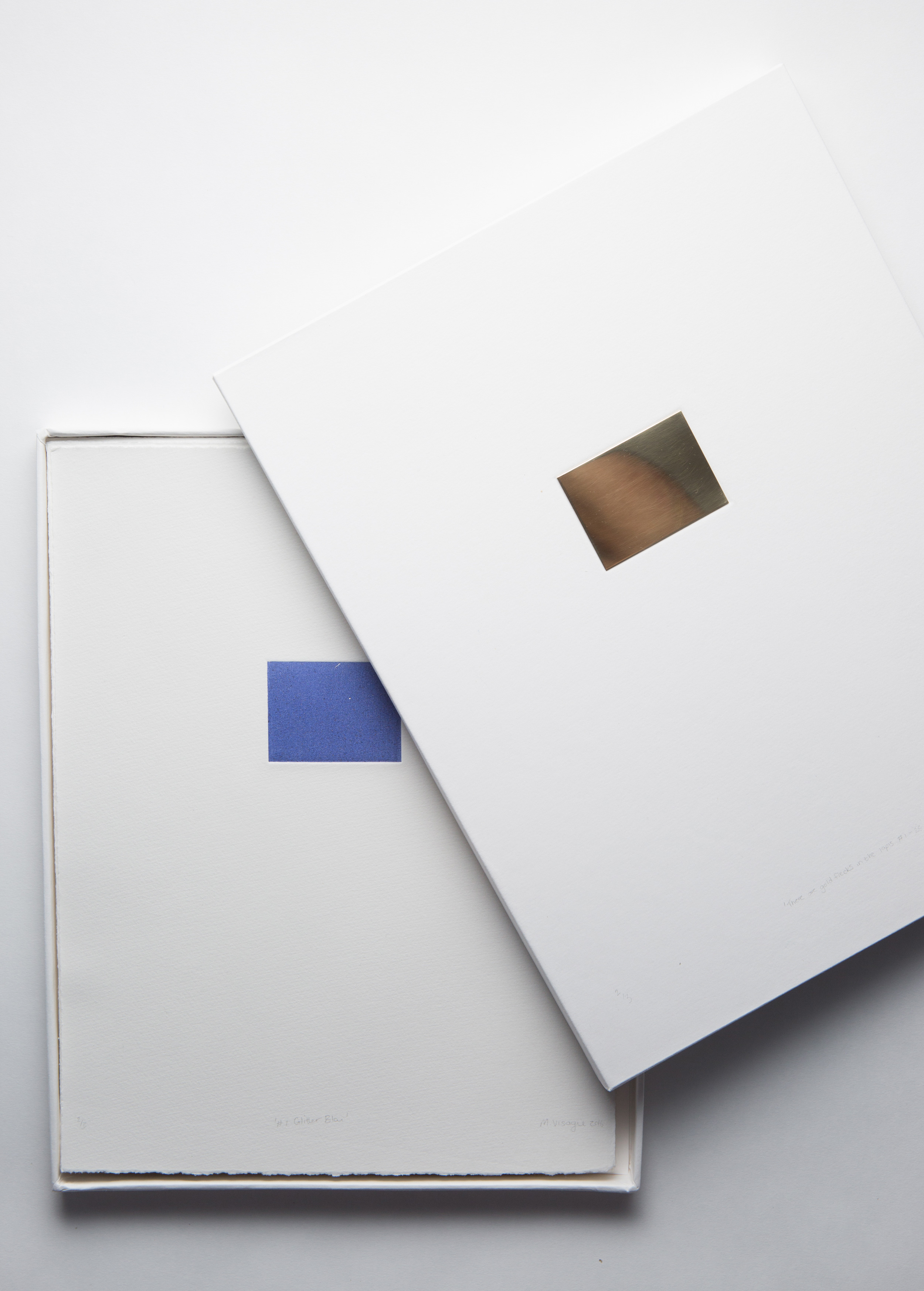 Die Bloue Wis
2018
Solo Exhibition
Nuweland Gallery, NL
Die Bloue Wis
was Visagie's first international exhibition, which introduced his love affair with colour, his queer identity and childhood growing up on Robben Island, South Africa The exhibition consisted of a selection of works produced over the last eight years (2011-2018).
A series of poems in Afrikaans, by South African author, Fourie Botha, accompanied the exhibition. Botha dedicated a poem to each work.
Extract:
I. Papiermond
"I am a castaway, not a prisoner"

Die eiland het my tong geskeur.
Waar lê die taal vir soveel blou?
Hier is net vlakwater se kleur.
Dit is ons pa's wat on shier hou.

II. Fragment I, II (An Affair Below)
Druk teëls in asuur olie

maak nat die papier, strek
dit oor die hout, monteer

hier vir ons 'n swembad.


(onthou hoe ek op 'n keer
verby een van jou lovers ry

voor die Langstraatbaddens,

handdoek oor fyn skouers.)


Een nag tussen wakker

en slaap wil ek bel, skree

dis jou ouer, jou pas streeps-

gewys daar onder die water.

IV. Kom op vir lig

"If we could dive to the wreck even now ...
we might save from it tools of the greatest utility."

Deur Indigo dieptes, 'n pêrel

lug teen adamsappelboom gehou,

Terug teug ek 'n honderd soorte blou,

kleur die ademlose see se vel.